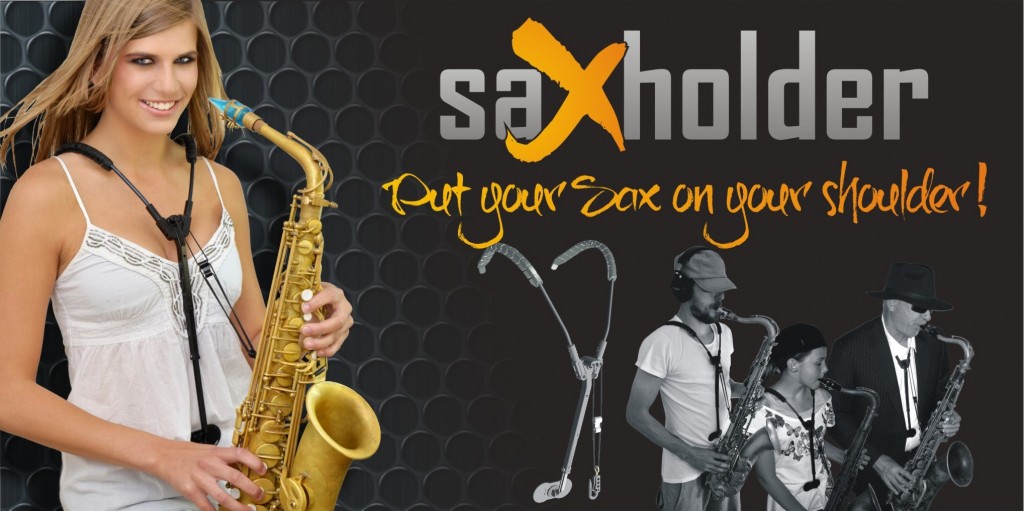 One of the big problems I've had the last few years when playing bari is ending up with a very sore back. It had gotten to the point where I would take the bari off the strap anytime I had any decent amount of rest and then re-hang it before the next entrance. I'm talking about as little as six bars rest. That technique got me through the gig and kept me from being in terrible pain the next day.
While playing bari always seemed to affect my lower back the most, playing tenor with a normal neck strap always made my neck sore although not nearly as much as bari affected my back. I never liked harness style straps because I didn't like the way the horn hung – it seemed to be too close to my body with that style of strap. Because of the way it hung, it always felt like the angle of the horn was wrong for me. I think it would be fine for sitting down but I spend most of my gigs standing up and I like the horn to be more out front than angled to my side. I started hearing a lot of great things about the Jazzlab Sax Holder and I finally took the plunge to try it out. My experience with it so far is over three gigs and several practice sessions but I believe I have a good feel for what it does and how that affects me.
How Did It Do?
There's no doubt the weight is much better distributed with the Sax Holder. The weight of the horn was moved from my neck (with a pull on my lower back) to my shoulders. The strap adjusts fairly easily to the contours of my shoulders and the weight is further distributed to a brace that rests on the body. This brace is adjustable both for height as well as thickness and I think this is the part that saves my back while the shoulder straps save my neck. The strap works like a marching tether for drummers in many ways.
The first time I used it I had a gig on bari and alto and the strap arrived during the day of the gig while I was at work. So like any rational person I decided to try it on the gig without any test. To make matters worse, traffic going to the gig was terrible so I didn't even make sound check so I was only able to try the strap for a few minutes before I went on. I did have a regular strap on stage just in case…I'm not totally nuts…but I didn't need it because the Sax Holder worked like a champ. It was effortless to hold the bari while playing and I didn't take it off at all while playing the bari songs. I also felt very comfortable playing alto. The angle of both horns was right where I wanted them to be. The Sax Holder has a longer strap portion that acts more like a traditional strap and that makes it much better than a harness for me.
The second gig I used it on was just tenor and I once again didn't have much time to adjust it (it was an outdoor wedding and you probably know how those go). Again, I appreciated how well the pressure on my neck and back was alleviated but this time I felt like maybe having more time to tweak the adjustable shoulder braces would have helped me a lot. The seemed to dig in a little bit more than they should the whole night. On the other hand, the strap works really well with a tux or a suit as it hides well under the jacket, doesn't mess up your bow tie, and actually keeps a traditional tie in place without a tie clip.
The third time I used it, was a outdoor concert and I was dressed MUCH more casually than the other two gigs. In this case, it actually interfered with my open collar shirt more than I wanted it to. Plus, the guys in the section were giving me grief about it a little it ("Oh I thought you were wearing a brace because you broke your sternum"). Ultimately, I decided not to finish out the gig with it that night even though it was still very comfortable for me. I think I can better plan my clothing in the future when I want to use it.
Pros
Really does protect both my neck and my lower back
Works well under a suit jacket and with ties
Horns hang at a good angle for me
Easily adjustable when switching horns
Lightweight
Comes with a soft bag and stores comfortably in the bell when in the case
Cons
Sometimes it's awkward to have on when you aren't playing. Walking up and down steps feels weird if you try to look down
Doesn't work well over an open collar shirt
Can look a little strange when you aren't hanging a horn on it
Verdict
For bari this is a no-brainer. It makes playing one pain free for the first time since I was much younger. I was able to feel comfortable without removing the horn and I was even able to move freely and do dance moves with the section. For the tenor, where I don't have as much lower back trouble but I do have neck strain, it's something that I can and will use under the right circumstance. Even if the guys give me grief, it's well worth being pain free after the gig. For alto it's really not necessary but I am often playing alto in conjunction with either the tenor or bari so it will get used especially since it is so adjustable. Overall, I think this strap is a winner and money well spent. I actually ordered mine through a store connected to Amazon but I don't think they have them all the time. I've also heard that there is a model 2 coming out but I will probably wait on that until I hear more as this one works fine.