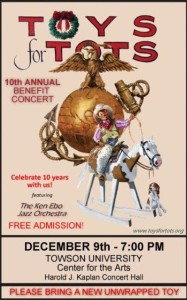 Every year for the last ten years I have been lucky enough to be a part of a big band Christmas concert to benefit Toys for Tots.  The band is called the Ken Ebo Big Bop Band and is lead by an incredible musician who both plays trombone and sings.  It features some of the best musicians in the Baltimore area – some of which I only get to see for this event.
I first started paying with the band over ten years ago when Ken was briefly out of the Marines and was teaching school in the Baltimore area.  He started having a rehearsal band on Monday nights and his book was outstanding.  That year he hosted the first one of these concerts at his school, Gilman.  As a former Marine (at the time – he has since rejoined, served a term in Iraq, and currently teaches at the school of music) he was well connected with Toys for Tots and it was a perfect fit to have a big band concert featuring all Christmas music with the admission price being simply an unwrapped toy.  The first year we mostly did stuff from the Kenton Christmas album and the big band was augmented with a French horn section as is appropriate for that music – a feature that has continued.  Of course, the first concert was hampered by no one really knowing much about it and it was further hampered by the fact that it snowed…I think there were more people on stage than there were in the audience.  As the years have passed we have gained a following and have increased the size of the venue not once but twice (first at Loch Raven High School and currently at Towson University in the Fine Arts Concert Hall).  I'm one of only a handful of people who have done every single one of these and I'm honored for the opportunity.
This year we did some of the Kenton Christmas stuff but not as much as years past.  We also did a lot of music from Tom Kubis, Gordon Goodwin, Harry Connick, and even some arrangements from Ken himself.  Ken is an excellent singer and we've had the same female vocalist for the entire run, Tammy Temple Testerman.  As a special treat this year we also had Ken's wife Mary Jo join him for a Steve Lawrence/Edie Gourmet number and Ken's two young children sang Away in a Manger with the band.  We usually only have two rehearsals to get ready for a rather challenging book and this year I had to miss the dress rehearsal for a memorial service so it was a pretty challenging night for me.  I played the lead tenor chair with some flute and clarinet doubles…I always have to dig out the clarinet and remem,ber how to play it because it seems like this is the only time I ever need it any more.
One cool thing for me was this was the first gig I've ever played with my new Cannonball tenor.  It played like a dream.  I used the fat neck because that's the one that feels the most comfortable to me.  The horn played very evenly throughout the range, the altissimo was practically effortless, and the intonation was spot on once I stopped making my usual unconscious adjustments from my other horn.  I'm really happy with this horn and I'm loving being back on my Phil-Tone Eclipse.  I still need to play out a little more with this setup but I will do full reviews of everything before the end of the year.
We had a nearly packed house and we collected a lot of toys.  We even had a Marine color guard march in the colors and a representative from Toys for Tots spoke and helped give out awards.  I was very excited that I was given a certificate commemorating my ten years of service (signed by a three-star general) as well as a cool personalized Christmas tree ornament.  We always hold the event on the second Sunday of December so save December 8th, 2013 if you want to see a big band Christmas concert and help out children in need at the same time.