I've been involved in quite a few mouthpiece pass arounds recently and most of them were from Phil-Tone (made by Phil Engleman). Previously I reviewed the hard rubber Sapphire and the metal Tribute (a collaboration with Theo Wanne). Today I want to talk about the Mosaic, another collaboration between Phil and Theo Wanne. Like the Tribute this is a metal mouthpiece based on a classic approach. It is not based on any particular mouthpiece but has been described as having a similar feel and sound to the old original Dukoff mouthpieces. The one I tried was a "factory second" although the only differences from the real production version were purely cosmetic – there was a mouthpiece patch on during plating so that area is disclorored…I thought it looked kind of cool.
Appearance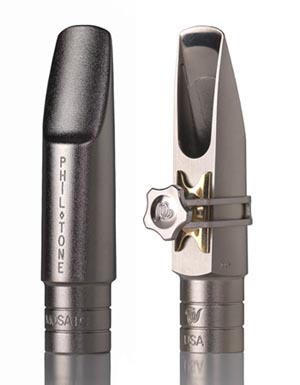 The Mosaic is a beautiful bit of work. Phil and Theo are both known for their attention to detail and their ability to deliver a precision-made, hand-finished mouthpiece. The rails and tip are thin, even, and seemingly perfect to the naked eye. The whole mouthpiece is finished in silver and bead blasted for a very interesting and pleasing look (just like the Tribute). This is a very large bore mouthpiece with a fairly minimal rollover baffle. It's about the same profile as an Otto Link so it accepts the same size ligatures and has a comfortable mouth feel if you're used to Links like I am.
How Does It Play?
I found this mouthpiece to be more comfortable and more versatile than the Tribute. It was more even through the registers and the upper register was more gutsy and full in general. The lower register was just as full to me It tended to be a little dark but very full and rather room-filling. I spent some time with it at a big band rehearsal, on a gig with an R&B band, and recording it in my little studio. When I first tried it on the big band rehearsal, it didn't last long for me. The big band is for a recording session later this year and it's predominantly a vehicle for trumpet players…translation – It's LOUD! The mouthpiece was so new to me that I didn't know how to get the most volume out of it and it just seemed like I would be fighting a losing battle. The tone was nice but I just didn't want to fuss with it at that time.
The second time I used it was with one of my regular bands, Jr. Cline and the Recliners. We were playing at a local casino in a nice room with a solid PA and monitors so I just decided to commit to it since I should be able to hear myself well all night. Well it turns out I was wrong about that because you can never underestimate the ability of guitars to overwhelm any given situation. On a side note, they had a bunch of those plexiglas barriers and it should be noted they rarely if ever work as expected. If it's not a fully-enclosed system then it can't possibly work but people often hear with their eyes first and I digress.
On that gig the mouthpiece was comfortable and full but I felt like I had to work way too hard and blow much more air than usual to get the sound I needed to sound appropriate in that setting. I was able to get around the horn really well but the altissimo was some work. The book is actually written over the full range of the horn with more written low notes than a lot of other two-horn books and all ranges were playable but still more work than I would like except for the low notes which spoke really well.
When I played it in my studio, I really liked it a lot. I think this was in no small way because I was more comfortable than ever with the mouthpiece. It was also true because I was in a very controlled environment where I could hear myself really well without competing with other instruments. In this setting I found out why people are really flocking to this mouthpiece because it is smooth and silky with the ability to roar when pushed. I think the problem I have with playing it live is my ability to hear it from behind the horn. When it's hard to hear it's important to have a feel for what is coming out the end of the horn and I could not get comfortable with that especially compared to my regular mouthpiece which is really excellent for that.
In conclusion, like some of the other stuff I've tested recently, this is a mouthpiece I could use if I was playing a different kind of music on a regular basis or if I was prone to switching mouthpieces for changing circumstances…I'm not. Of the three recent mouthpieces I've tried from Phil-Tone I like this one the second best but I really think it would grow on me if it was all I played for a long period of time. This is the kind of mouthpiece that you would want to invest time and effort in rather than something that's just going to be perfect the first time you put it on. I actually liked the Sapphire the best but I'm more comvinced than ever that my Eclipse is the perfect mouthpiece fo all of the things I do right now.
The Clip
This is a fairly long clip because I was having a lot of fun playing this piece. As with all recent recordings it was recorded directly into Reason on my MacBook Pro using a Fat Head Ribbon microphone through a Balance interface. I think you can hear how flexible and full it is but I didn't necessarily push it as hard as I could or would in certain settings but that's probably true of everything I do in the studio.