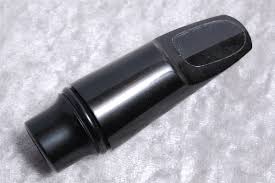 Hot on the heels of getting the chance to review Phil Engleman's collaboration with Theo Wanne, the Tribute, I recently received the Sapphire to try out. Well, to be fair it's been a month and a half and not "hot on the heels" but it's been harder to get back rolling on this blog than I thought it would be. Being a single dad really puts a crimp in your available time. For instance, I was interrupted 4 times before I got this far in my writing today. 🙂
Introduction
Anyway, back to business. The Sapphire is a replacement for something Phil has been doing for years and I believe the thing he started with before making his own mouthpieces. Phil has always had a knack for taking stock, off-the-shelf Otto Link Tone Edge mouthpieces (known for being wildly inconsistent at best) and turning them into powerhouse, monster players. The process involved lots of steps to fix the tip and rails, adjust the "floor", open the chamber, and possibly the most important, adjusting the baffle. The intent was to take these modern, inconsistent, and possibly flawed pieces and turn them into something that felt and sounded more like the old "slant signature" Tone Edge mouthpieces. The slant signature being the most well known and sought after Tone Edge of all time. He has done this for many years but recently decided to work directly with J.J. Babbitt company (makers of the current Otto Link and Meyer lines of mouthpiece) to have a blank made just for him that would allow him to produce consistent and superior results without as much busy work just to get to square one. Based on what I was able to play I think he's on to something special.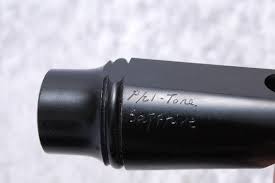 Appearance
A couple years ago when I bought my first mouthpiece from Phil I posted a review on Sax on the Web Forum (long before I started this blog) I expressed a thought about the appearances of mouthpieces that feels appropriate here. Based on the effect people ascribe to mouthpiece construction, materials, etc. it's odd that good ones don't look all that different from the "bad" ones. I mean it seems like the ones that really play should glow or have a pearlescent sparkle like the tears of a unicorn but the reality is that the naked eye can't necessarily see a whole lot of difference from one mouthpiece to another. You can definitely spot a particularly bad example but the differences between good and great mouthpieces are very hard to discern sometimes. The Sapphire looks different from all of Phil's other custom pieces. It is a little shorter from end to end with a shorter shank that has two cuts. As with all of Phil's work, the tip and rails are absolutely immaculate. Also there isn't a ton of baffle in the rather spacious chamber. The beak seems like it might be a little higher and of a sharper angle than his other pieces as well and that's actually good for me because I have become more comfortable with a higher profile mouthpiece over the years. The one I have may be more on the prototype side as well because there are very few markings on it at all. The mouthpiece I tried is a 7* – right in my comfort zone. I used a Rigotti Gold 3 Strong reed and a Francois Louis Pure Brass ligature.
How Does It Play?
If you read my review of the Tribute you might remember that I intended to use it on a gig but bailed at the last minute because it didn't seem like it was going to fit the gig both from a sound profile as well as from my ability to discern and hear myself in a rough monitoring situation. With the Sapphire it was a very different situation. I found myself playing the exact same gig with mostly the exact same band. I hadn't had a chance to play the mouthpiece prior to the gig but I was game to try it so I slapped one of my reeds on and got to work. This mouthpiece was instantly comfortable to me. Not only that but it was close enough to how I usually sound that I was easily able to pick myself out of the monitor mix even though it was a bit of a messier mix than the last time we played there. The overall feel was a little darker than I am used to these days so I had to work a little harder than I would normally want to but the evenness of tone and intonation was exactly what I would hope for.
When I was able to try it in my studio I was still very happy with the sound and happily played the mouthpiece for quite a while as I put it through its paces. I'm pretty sure this could easily be my every day mouthpiece except for a couple of things none of which are knocks on the mouthpiece: First, I already have a Phil-Tone Eclipse that has been my main piece for several years and it is easier to play a bit brighter the way I like to sound in most of the musical situations I find myself in. Second, when I am looking for something on the darker, smokier, Blue Note side of things (a sound the Sapphire excels at) I already have an Equinox D mouthpiece from Phil that I have reviewed previously – The Equinox D is now called the Aurora I believe. If I didn't already have the comfort of Phil's other pieces and the sonic spectrum so well covered already I never would have let this mouthpiece go on to the next person in the pass around.
The Clip
I just finished editing the clip – snipping out unwanted sections and converting to MP3. There were no changes other than that…It was recorded direct to Reason on my Mac using a Cascade Fat Head ribbon microphone through a Propellerheads Balance audio interface. I simply normalized everything and then did the snipping. It's pretty obvious I have a lot of comfort with this mouthpiece and, listening back, I really love the sound of it. As I said, if I didn't feel like I already had the sonic territory and comfort of this mouthpiece well covered it would not have left my grubby little hands. The clip is a little long but I was having a great time so bonus points if you listen to the whole expanse of mindless noodling. 🙂